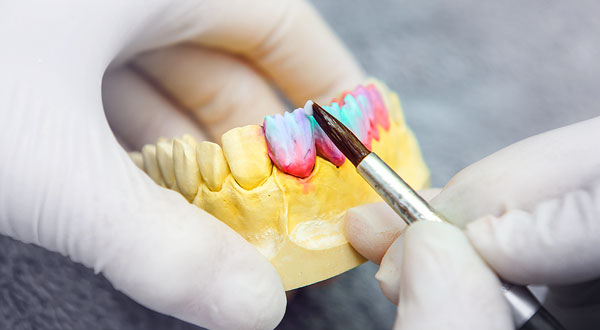 PROSTHODONTICS
If one or more teeth are missing, this does not just affect the appearance of the dentition but also its functionality. With the appropriate dental prosthetics it is easier to chew, talk and smile, and the bone resorption of the jaw is slowed down.
The loss of a tooth can be due to various reasons: caries, periodontitis or injuries and accidents. We offer our patients up-to-date care which brings in line aesthetic and functional standards and individual requirements. We insist on the inseparable connection between the form and function of dental prosthetics. Only functionally good work leads to good aesthetic results. For the selection and manufacture of the dental prosthesis, objective criteria play a part as well the patient type and the patient's age. The complex prosthodontic reconstruction of the dentition requires a precise and extensive diagnosis before reconstructive measures can be started. To do this, a thorough medical anamnesis is necessary, as well as radiodiagnostics and the use of modern methods to exactly determine the position of the teeth and the movement of the temporomandibular (jaw) joint. For prosthodontic restoration, we use modern crown and bridge technology, partial and full prostheses and implants.
Range of Services
Prosthodontic restoration must meet functional as well as aesthetic requirements. We make a point of having the prosthetics fit into the remaining dentition without being distracting. At the same time, our aesthetic demands on prosthetic care are very high.
There are numerous ways to replace missing teeth through prosthodontic care. Depending on each case our specially trained dentists use fixed, removable or implant-supported prosthetics.
Among the fixed types of prostheses are inlays, onlays, bridge restorations, crowns or clasp crowns. These can be made out of a combination of metal and ceramics, only of metal or only of ceramics. Modern technologies such as CAD/CAM processes are used to produce ceramic restorations. For CAD/CAM processes, the tooth's form is captured with the aid of a computer to manufacture precisely fitting inlays and crowns from transparent all-ceramics.
For the care of larger tooth gaps, partial prostheses are one possibility. If no clasps should be visible, then one can achieve an invisible hold with an attachment (connection of a removable dental prosthesis) or telescopic crowns. When providing the toothless jaw with full prostheses we emphasise the importance of optimal hold, good functionality and aesthetics.
For jaw and teeth, aesthetics and functionality go hand in hand. Good-looking teeth are attractive and give confidence. But for the patient's comfort, the chewing organ also needs to be completely and functionally restored.
Therefore prosthetic restorations need to withstand even great chewing pressure, must not cause pressure marks and should feel like one's own teeth. The dental prosthesis fits harmoniously in the dental arch and can barely be distinguished from the natural teeth.
Compared to other types of prosthetics, implants have several advantages:
-improved chewing strength, improved chewing experience
-clearer speech
-lesser reduction of the alveolar crest
-the remaining teeth are spared because implants do not require abrasion, unlike other types of dental prosthetics
-better hold of prostheses
-aesthetic: the dentition looks better